Projecting Union Bank as the beacon of financial solutions for the new generation
the new generation Warlord in concept development, strategy and design
visual disruption of the Lagos scenery. The Union bank's Stallion house can be seen from almost anywhere on the Lagos Island
the new generation Warlord in concept development, strategy and design — we found the true expression for the Union Bank brand
Our Story
Lagosians would raise their eyes
Lagosians would raise their eyes to the sky in awe, like the three wise men. Mouth agape. And mesmerized. They would stare in wonder as the Stallion house dazzle the Lagos skyline: the star of Marina
Union Bank is a household name and pace setter in the financial sector.It is not often, that you get to see organizations live up to a century. With an experience of over 100 years, Union Bank can boast of understanding what it entails to bank from one generation to another.
In light of the changing times, the Big, Strong, Reliable bank has evolved to become your Simpler, Smarter bank. So how do they communicate this?
The Brief
The challenge: project Union Bank as the beacon of financial solutions for the new generation. Xtreme Cr8tivity — the new generation Warlord in concept development, strategy and design — we found the true expression for the Union Bank brand.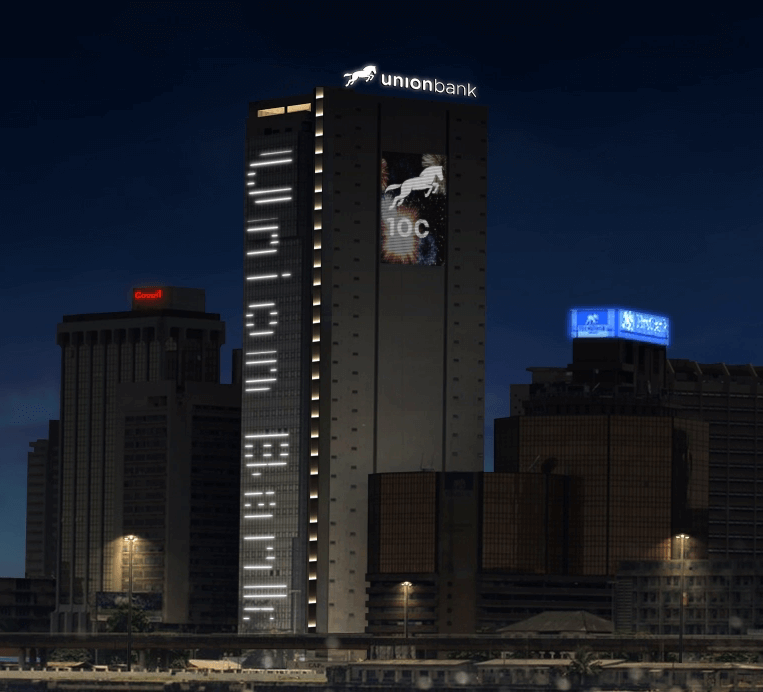 The Lightspiration
Xtreme Cr8tivity's concept — visual disruption of the Lagos scenery. The Union bank's Stallion house can be seen from almost anywhere on the Lagos Island — so, why not light it up?
The Lightspiration is a brilliant set of programmable images displayed on the exterior of the Stallion house by almost invisible tiny light panels and LED installed on the high rise building.
The resplendence of colorful images on the Stallion house, positions Union Bank as a highly honored peacock in the financial game. This breathtaking beauty can be seen from almost any point on the Lagos Island. The Lightspiration tells the story of a century of groundbreaking achievements and reliable financial services.
Like a candle in the dark, Union bank would remain the source of light, innovation and smart banking solutions to the new generation and for the next 100 years.